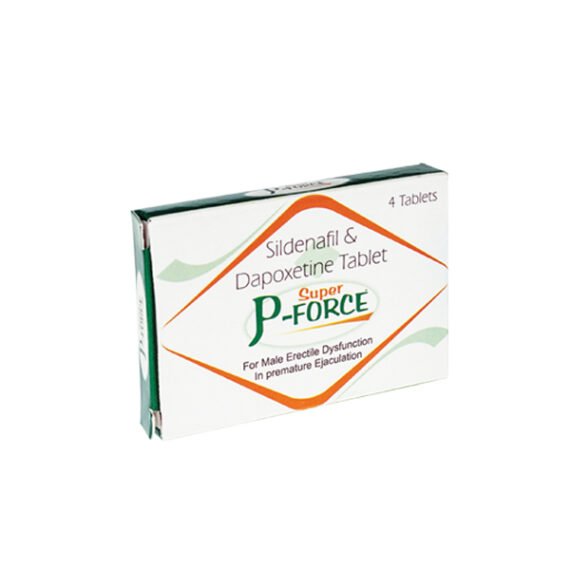 Super P-Force
$0.00
Brand: Super P-Force
Composition: Sildenafil and Dapoxetine
Form: Tablets
Strength: Sildenafil 100mg and Dapoxetine 60mg
Packing: 1×4 Tablets
Manufacture By: SUNRISE REMEDIES PVT LTD
DESCRIPTION:
Super P-Force tablets 100mg/60mg are used to treat erectile dysfunction impotence in men, which is the inability to achieve or maintain a hard erect penis suitable for sexual activity, due to insufficient blood flow into the penis.
Description
What does Super P-Force contain?
Super P-Force tablets contain the active ingredients Sildenafil 100mg and Dapoxetine 60mg, which are used in combination to treat erectile dysfunction and premature ejaculation.
How to take Super P-Force?
It should be taken in 1-3 hours before planned sexual activity For premature ejaculation.
It should be swallowed with water and pills can be taken with or without food but avoid alcohol.
It will have a maximum effect within 1-2 hours.
It should not take more than one tablet in 24 hours and take only if you plan to have sex.
Possible side effects of Super P-Force.
The most commonly reported side effects when taking Super P-Force tablets 100mg/60mg include
Headache
Dizziness
Nasal congestion
Indigestion
Nausea
Diarrhea
Insomnia
Fatigue flushing rash.
Storage.
Store Super P-Force tablets 100mg/60mg below 25°C in a cool dry place.
Why choose us?
Jindal Medical Store is one of the topmost pharmaceutical suppliers with experience of more than 50 years. Super P-Force tablets are sold in bulk at very affordable prices. They provide the best quality services at your own convenient time. If you are looking for Super P-Force tablets then you can visit our website.
Send your query