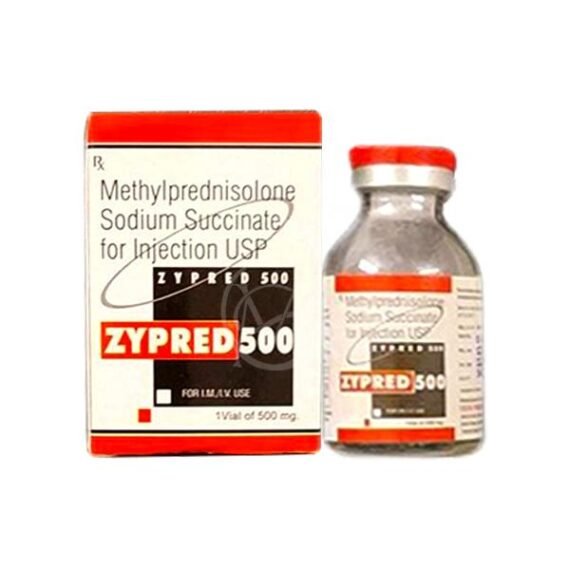 Zypred 500 Mg
$0.00
Brand: Zypred 500 Mg
Composition: Methylprednisolone 500 MG
Form: Injection
Packing: 1 vial for 500mg
Manufactured By: Oscar Remedies Pvt Ltd
DESCRIPTION:
This corticosteroid drug is recommended for people with severe allergies, arthritis, asthma, blood abnormalities, and skin issues. It stops the body from releasing chemicals that lead to inflammation.
if you are allergic to any component of this medication, including methylprednisolone. If you have a drug allergy, let your doctor know. Tell them about your allergy and any symptoms you experienced. This includes describing any symptoms, such as a rash, hives, itching, shortness of breath, wheezing, coughing, and swelling of the face, lips, tongue, or throat. if the infection is severe.
Description
How to Take Zypred 500 Mg?
It is available as a pill to swallow with food. Additionally, it is available as a solution that can be injected into a vein by a medical professional. The range of suggested daily doses is 4 to 32mg. 1 gram IV every 6–8 weeks.

Possible side effects of  Zypred 500 Mg
Most side goods don't bear medical attention and vanish as your body adjusts to the drug. Consult your doctor if they persist or if you're upset about them 
Nausea

Sweating

Edema (swelling) (swelling)

Skin thinness

higher chance of infection

decreased bone density

gaining weight

Mood shifts

uneasy stomach

Behavioral alterations
Storage.
It should store below 30°C in a cool dry place.
Why choose us?
Jindal Medical Store is one of the topmost pharmaceutical exporters with an experience of more than 53 years.  Zypred 500 Mg is sold in bulk at very affordable prices. They provide the best quality services at your own convenient time. If you are looking for  Zypred 500 Mg, you can visit our website.
Send your query