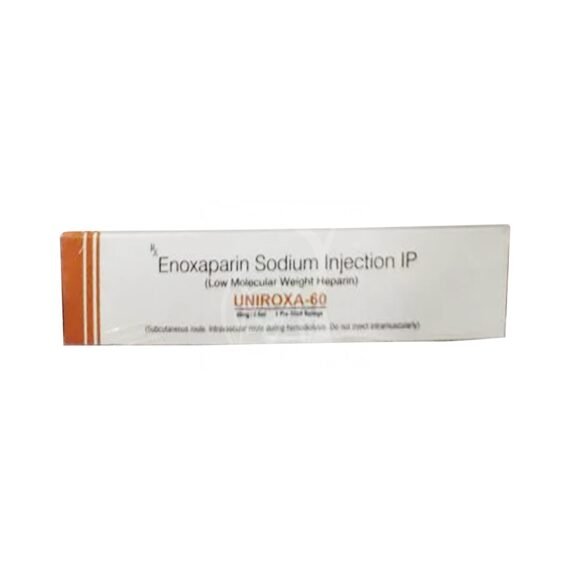 Uniroxa 60 mg
$0.00
Brand: Uniroxa 60
Composition: Enoxaparin Sodium Injection IP
Form: Injection
Packing: 60mg
Manufactured By: Roselabs Bioscience  Ltd
DESCRIPTION:
Uniroxa 60 mg injection  is used to help and treat dangerous blood clots. This helps to reduce the threat of a stroke or heart attack. This drug helps keep your blood flowing easily by lowering the exertion of clotting proteins in the blood. Uniroxa 60 mg injection is an anticoagulant, also known as a" blood thinner." It's a type of heparin. Conditions which increase your threat of developing blood clots include certain types of surgeries (similar as knee/ hipsterism relief, abdominal), long ages of being immobile, certain types of heart attack, and a specific type of casket pain called unstable angina.

Description
How to Take Uniroxa 60 mg injection?
This drug is given by injection under the skin as directed by your croaker, generally formerly or doubly a day in the tummy (at least 2 elevation from your belly button). Don't fit into a muscle. The lozenge and length of treatment are grounded on your medical condition and response to treatment.
Possible side effects of Uniroxa 60 mg injection
Most aspect effects no longer require any medical attention and disappear as your body adjusts to the medicine. Consult your medical doctor in the event that they persist or in case you're concerned approximately them
dark urine 

black stools 

severe headache 

confusion 

vision changes 

unusual dizziness

fainting

seizures 

weakness

numbness
Storage.
Store in a cool and dry place away from sunlight.
Why choose us?
Jindal Medical Store is one of the topmost pharmaceutical exporters with an experience of more than 53 years. Uniroxa 60 mg injection is sold in bulk at very affordable prices. They provide the best quality services at your own convenient time. If you are looking for an Uniroxa 60 mg injection, you can visit our website.
Send your query