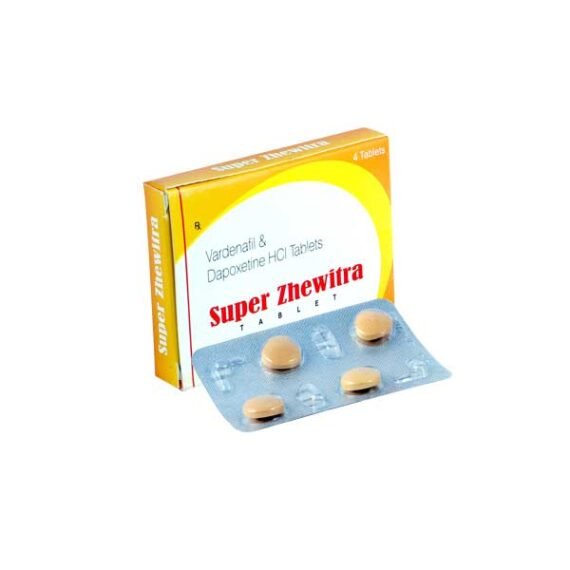 Super Zhewitra
$0.00
Brand: Super Zhewitra
Composition: Vardenafil and Dapoxetine
Form: Tablet
Strength: Vardenafil 20mg and Dapoxetine 60mg
Packing: 1×4 Tablet
Manufacture By: SUNRISE REMEDIES PVT LTD
DESCRIPTION:
One of the most effective generic medicines exported and supplied by our firm is Super Zhewitra Tablets are composed of Vardenafil 20 mg and Dapoxetine 60 mg for instant results. Super Zhewitra Tablets are available in the convenient blister pack of 4 tablets that is moisture resistant.
Description
What does Super Zhewitra contain?
Super Zhewitra is a combination of Verdenafil Hydrochloride
And Dapoxetine Hydrochloride. Super Zhewitra is available in
the strength of Verdenafil Hydrochloride in 20mg strength and
Dapoxetine Hydrochloride in 60mg strength.
How to Take Super Zhewitra?
It should take swallowed whole with a glass of water with food.
It should Do not chew, crush or break.
Take this drug in the dose and duration as advised by your health care physician.
Possible side effects of Super Zhewitra
The most commonly reported side effects when taking Super Zhewitra tablets include
Headache
Flushing
Bloody nose
Indigestion
Sleeplessness
Diarrhea
Dizziness
Storage.
Super Zhewitra should be stored at room temperature of 25 C (77 F) away from humidity, sunlight, kids, and pets in a tight container.
Why choose us?
Jindal Medical Store is one of the topmost pharmaceutical suppliers with an experience of more than 50 years. Super Zhewitra tablets are sold in bulk at very affordable prices. They provide the best quality services at your own convenient time. If you are looking for Super Zhewitra tablets then you can visit our website.
Send your query