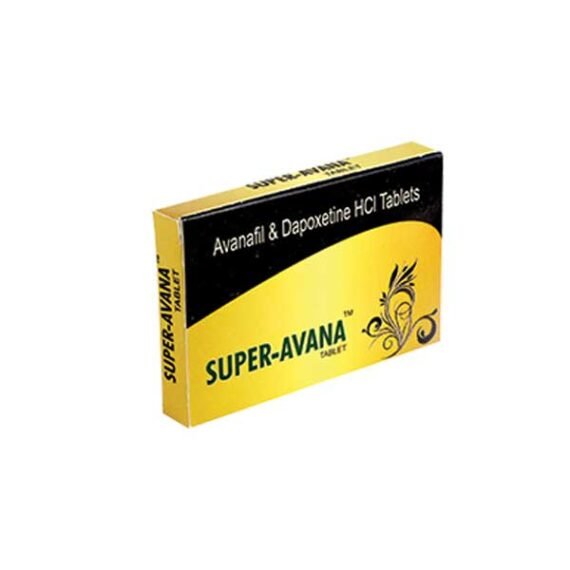 Super Avana
$0.00
Brand: Super Avana
Composition: Avanafil with Dapoxetine
Form: Tablet
Strength: Avanafil 100mg & Dapoxetine 60mg
Packing: 1×4 Tablets
Manufacture By: SUNRISE REMEDIES PVT LTD
DESCRIPTION:
Super Avana tablets are manufactured by Sunrise Remedies Pvt. Ltd. in the strengths of 160 mg Avanafil 100 mg and Dapoxetine 60 mg Tablets. We also have in stock Tadalift 20 mg by Pfizer Generic Tadalafil which is also used for the treatment of Erectile Dysfunction (ED).
Description
What does Super Avana Tablet contain?
Super active ingredients at once which are Avanafil and Dapoxetine. Avanafil works also to Viagra and accomplishes and support an erection. Dapoxetine makes erections delayed.
How to take Super Avana Tablet?
It is usually has taken 30 minutes before sexual intercourse.
It no more than ones in a day and keep a gap of 24 hours between doses.
It should be as recommended by your doctor.
Possible side effects of Super Avana Tablet.
Severe allergic reactions
Rash
Itching
Difficulty breathing
Tightness in the chest
Swelling of the mouth, face, lips, or tongue.
Storage.
Super Avana tablets A combination of Avanafil 100 mg plus Dapoxetine 60 mg at 20°C to 25°C (68°F to 77°F), Protect from moisture and light.
Why choose us?
Jindal Medical Store is one of the topmost pharmaceutical suppliers with experience of more than 50 years. Super Avana tablets are sold in bulk at very affordable prices. They provide the best quality services at your own convenient time. If you are looking for Super Avana tablets then you can visit our website.
Send your query