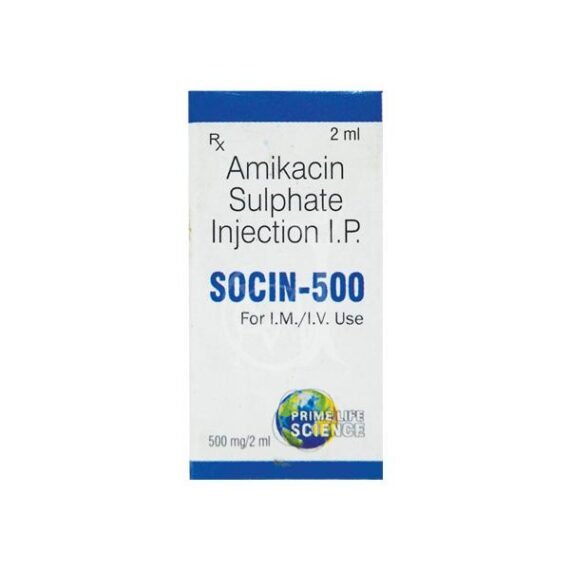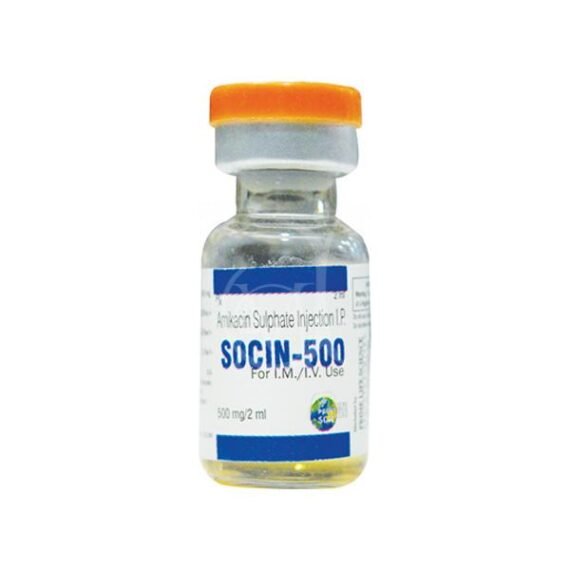 Socin 500
$0.00
Brand: Socin 500
Composition: Amikacin (500mg)
Form: Injection
Packing: 2ml
Manufactured By: Prime Life Science
DESCRIPTION:

Socin 500 mg Injection is an antibiotic used to help or treat a wide variety of bacterial infections. These may include infections of the urinary tract, bones, and joints, lungs(eg. pneumonia), brain, blood, among others. It's also used in rehabilitated cases to help infections.
Socin 500 mg Injection works by stopping the growth of bacteria. It's given as a drip (intravenous infusion) or as an injection directly into a tone or a muscle under the supervision of a healthcare professional and shouldn't be tone- administered. It should be used regularly at unevenly spaced time intervals as specified by your croaker. Don't skip any boluses and finish the full course of treatment indeed if you feel more. Stopping the drug too beforehand may lead to the infection returning or worsening.
Description
How to Take Socin 500?
Your croaker or nanny will give you this drug. Kindly don't self administer.

Possible side effects of Socin 500
Most side goods don't bear medical attention and vanish as your body adjusts to the drug. Consult your doctor if they persist or if you're upset about them 
Increased blood urea
Injection site reactions (pain, swelling, redness)

Storage.
It should store below 30°C in a cool dry place.
Why choose us?
Jindal Medical Store is one of the topmost pharmaceutical exporters with an experience of more than 53 years. Socin 500 is sold in bulk at very affordable prices. They provide the best quality services at your own convenient time. If you are looking for Socin 500, you can visit our website.
Send your query
Quick Comparison
Settings
Socin 500

remove

Cefepime 1g Injection I.P.

remove

Etorishine 60mg

remove

Metoprolol Tartrate Tablets IP 50mg

remove

Etorishine 120mg

remove

Erythromycin Stearate Tablets I.P. 500mg

remove

Image
SKU
Rating
Price

$0.00

$0.00

$0.00

$0.00

$0.00

$0.00

Stock
Availability
Add to cart
Description
Brand:

Socin 500

Composition: Amikacin (500mg)

Form: Injection

Packing:

2ml

Manufactured By:

Prime Life Science

DESCRIPTION:

Socin 500 mg Injection is an antibiotic used to help or treat a wide variety of bacterial infections. These may include infections of the urinary tract, bones, and joints, lungs(eg. pneumonia), brain, blood, among others. It's also used in rehabilitated cases to help infections. Socin 500 mg Injection works by stopping the growth of bacteria. It's given as a drip (intravenous infusion) or as an injection directly into a tone or a muscle under the supervision of a healthcare professional and shouldn't be tone- administered. It should be used regularly at unevenly spaced time intervals as specified by your croaker. Don't skip any boluses and finish the full course of treatment indeed if you feel more. Stopping the drug too beforehand may lead to the infection returning or worsening.
Composition:-

Cefepime Injection I.P.

Form:-

Injection

Strength:-

1gm

Packing:-

Single Dose vial for I.M/I.V. use

Manufacture By:-

Prime Life Sciences Pvt Ltd

DESCRIPTION:

Cefepime injection is used to treat certain infections caused by bacteria including pneumonia, and skin, urinary tract, and kidney infections. Cefepime injection is used in combination with metronidazole (Flagyl) to treat abdominal (stomach area) infections.

Brand:-

Etorishine 60mg

Composition:-

Etoricoxib 60mg

Form:-

Tablet

Packing:-

10x10 Tablets

Manufacture By:-

Prime Life Sciences Pvt Ltd

DESCRIPTION: Etoricoxib helps to reduce the pain and swelling (inflammation) in the joints

and muscles of people 16 years of age and older with osteoarthritis, rheumatoid arthritis, ankylosing spondylitis, and gout.

Composition:-

Metoprolol Tartrate Tablets IP 50mg

Form:-

Tablet

Strength:-

50mg

Packing:-

5x5x10 Tablets

Manufacture By:-

Prime Life Sciences Pvt Ltd

DESCRIPTION:

Metoprolol is used with or without other medications to treat high blood pressure (hypertension). Lowering high blood pressure helps prevent strokes, heart attacks, and kidney problems. This medication is also used to treat chest pain (angina) and to improve survival after a heart attack.

Brand:- Etorishine 120mg

Composition:-

Etoricoxib 120mg 

Form:-

Tablet

Packing:-

10x10 Tablets

Manufacture By:-

Prime Life Sciences Pvt Ltd

DESCRIPTION: Etoricoxib helps to reduce the pain and swelling (inflammation) in the joints and muscles of people 16 years of age and older with osteoarthritis, rheumatoid arthritis, ankylosing spondylitis, and gout.
Name: Erythromycin Stearate Tablets 500 mg Composition: Erythromycin Form: Tablets Packing: 10 Tablets Manufactured by: Mayne Pharma Description Erythromycin Stearate 500 mg

is an antibiotic that fights bacteria. It is used to treat several bacterial infections such as skin, lungs, urinary tract and the stomach.

Content
How to Take Socin 500? Your croaker or nanny will give you this drug. Kindly don't self administer.

Possible side effects of Socin 500

Most side goods don't bear medical attention and vanish as your body adjusts to the drug. Consult your doctor if they persist or if you're upset about them 

Increased blood urea
Injection site reactions (pain, swelling, redness)

Storage.

It should store below 30°C in a cool dry place.

Why choose us? Jindal Medical Store

is one of the topmost pharmaceutical exporters with an experience of more than

53 years. Socin 500

is sold in bulk at very affordable prices. They provide the best quality services at your own convenient time. If you are looking for

Socin 500,

you

can visit our website.

Send your query




What does the Cefepime 1gm Injection I.P contain?

Cefepime injection is used to treat certain infections caused by bacteria including pneumonia, and skin, urinary tract, and kidney infections. Cefepime injection is used in combination with metronidazole (Flagyl) to treat abdominal (stomach area) infections.

How to take a Cefepime 1gm Injection I.P?

Cefepime injection comes as a powder to be mixed with liquid, or as a premixed product, to be injected intravenously (into a vein) over a period of 30 minutes. Cefepime injection can also be given intramuscularly (into a muscle). It is usually given every 8 or 12 hours for 7 to 10 days.

Possible side effects of Cefepime 1gm Injection I.P.

Tell your doctor right away if you have any serious side effects, including: easy Bruising/bleeding,

Unusual tiredness,

Uncontrollable movements,

Mental/mood changes (such as confusion, hallucinations, decreased alertness),

Seizures, trouble speaking,

Signs of kidney problems (such as change in the amount of urine)

Storage.

Store at room temperature (10-30°C)

Send your query




What does the Etorishine 60mg Tablet contain?

The active substance is etoricoxib. Each film-coated tablet contains 30, 60, 90, or 120 mg of etoricoxib. The 60 mg tablets also contain brown ferric oxide E172, the 90 mg tablets also contain yellow ferric oxide E172 and the 120 mg tablets also contain red ferric oxide E172.

How to take a Etorishine 60mg Tablet?

The recommended dose is 60 mg once a day, increased to a maximum of 90 mg once a day if needed.

Etoricoxib should be used only for the acute painful period.

Possible side effects of Etorishine 60mg Tablet.

Flu-like symptoms,

Indigestion,

Stomach pain,

Diarrhea,

Peripheral edema,

Flatulence

Storage.

Etobrix 60mg Tab does not require any special storage conditions.

Try to keep out of the reach of children

Send your query




What does the Metoprolol Tartrate Tablets IP 50mg contain?

Lowering high blood pressure helps prevent strokes, heart attacks, and kidney problems. This medication is also used to treat chest pain (angina) and to improve survival after a heart attack. Metoprolol belongs to a class of drugs known as beta-blockers.

How to take a Metoprolol Tartrate Tablets IP 50mg?

Take this medication by mouth, with or right after a meal, as directed by your doctor, usually 1-3 times a day.

The dosage is based on your medical condition and response to treatment.

Possible side effects of Metoprolol Tartrate Tablets IP 50mg.

dizziness, tired feeling;

depression, confusion, memory problems;

nightmares, trouble sleeping;

diarrhea; or.

mild itching or rash.

Storage.

Store at 25°C (77°F). Excursions permitted to 15-30°C (59-86°F).

Send your query




What does the Etorishine 120mg Tablet contain?

The active substance is etoricoxib. Each film-coated tablet contains 30, 60, 90, or 120 mg of etoricoxib. The 60 mg tablets also contain brown ferric oxide E172, the 90 mg tablets also contain yellow ferric oxide E172 and the 120 mg tablets also contain red ferric oxide E172.

How to take an Etorishine 120mg Tablet?

Etoricoxib can be taken with or without food.

Take the tablets once a day.

You should never take more tablets than the doctor recommends.

 If you do take too many etoricoxib tablets, you should seek medical attention immediately.

Side effects of Etorishine 120mg :

Flu-like symptoms

Indigestion

Stomach pain

Diarrhea

Peripheral edema

Flatulence

Storage

Keep all medicines out of the reach and sight of children.

Store in a cool, dry place, away from direct heat and light.

Send your query




How to consume?

Take the tablet as directed by a doctor. Swallow the tablet as a whole. Do not chew or break the tablet.

 Erythromycin Stearate 500 mg side effects 

Nausea 

Stomach pain

Diarrhoea 

Indigestion 

Storage

It should be kept in cool and dry places away from children and pets.

Why Choose Us?

Jindal Medical Store is one of the topmost pharmaceutical suppliers with an experience of more than

50 years. Erythromycin Stearate 500 mg Tablets 

are sold in bulk at very affordable prices. They provide the best quality services at your own convenient time. If you are looking for

Erythromycin Stearate 500 mg Tablets

then you can visit our website.

Send your query




Weight
Dimensions
N/A
N/A
N/A
N/A
N/A
N/A
Additional information