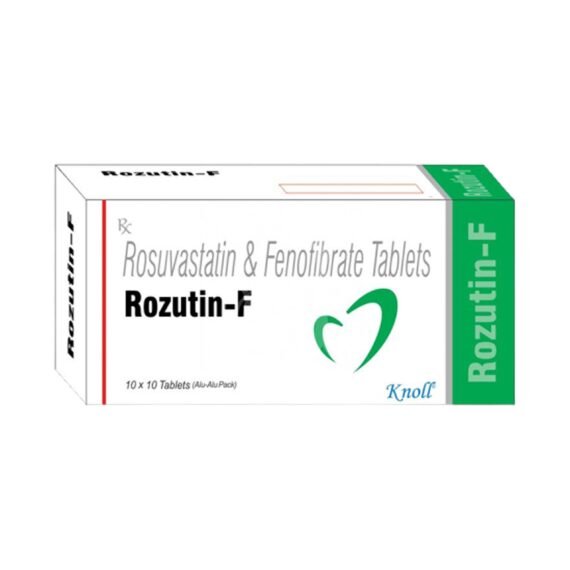 Rozutin-F Tablet
$0.00
Brand: Rozutin-F Tablet
Composition: Fenofibrate + Rosuvastatin
Form: Tablets
Packing: 10×10 Tablets
Manufactured By: Knoll Pharmaceuticals Ltd
DESCRIPTION:
Rozutin- F Tablet 10's belongs to the class of lipid- lowering agent used to lower an raised position of total cholesterol and triglyceride (TG) position. This prevents the threat of having any cardiovascular events like heart attack, stroke, and heart- related casket pain (angina) in the future. The blockage of the heart occurs due to the increased position of bad cholesterol (low- viscosity lipoprotein- LDL and triglycerides- TG) which make- up of fat, cholesterol, and other waxy substances layers forming a shrine in the filling of the highways wall (coronary highways). This increases the chance of having a blood clot and heart attack in an existent.
Description
How to Rozutin- F Tablet 10's?
Swallow Rozutin- F Tablet 10's as a whole with water; don't crush, break or bite it. It's better to take it at a fixed time.
Possible side effects of Rozutin- F Tablet 10's
Most aspect effects no longer require medical attention and disappear as your body adjusts to the medicine. Consult your medical doctor in the event that they persist or in case you're concerned approximately them
Nausea

Headache

Abdominal pain

Muscle pain (myalgia)

General weakness

Daytime drowsiness
Storage.
Store in a cool and dry place away from sunlight.
Why choose us?
Jindal Medical Store is one of the topmost pharmaceutical exporters with an experience of more than 53 years. Rozutin- F Tablet 10's are sold in bulk at very affordable prices. They provide the best quality services at your own convenient time. You can visit our website if you are looking for a Rozutin– F Tablet 10's.
Send your query