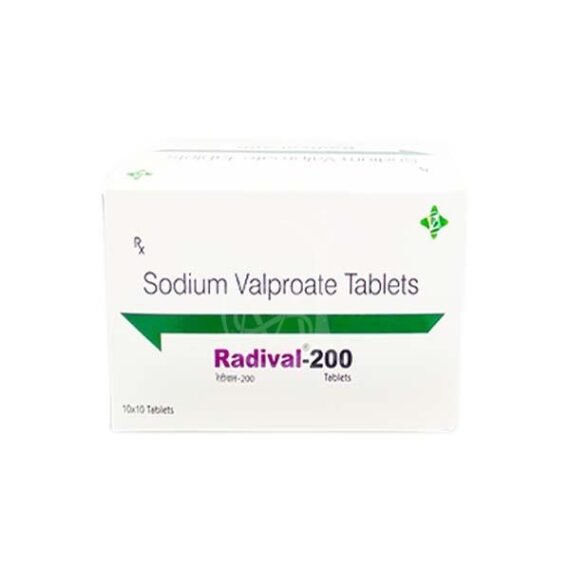 Radival 200 Tablet
$0.00
Brand: Radival 200 Tablet
Composition: Sodium Valproate (200mg)
Form: Tablet
Packing: 10 x 10 Tablets
Manufactured By: Psychocare Health Pvt Ltd
DESCRIPTION:
Radival 200 Tablet belongs to a group of drugs calledanti-epileptics. It's used to treat conditions similar as epilepsy and bipolar complaint. It works by precluding extreme mood swings and abnormal brain signals that spark seizures( fits). It also helps in the forestallment of migraines. 
Description
How to Take Radival 200 Tablet?
Take this drug in the cure and duration as advised by your croaker. Swallow it as a whole. Don't bite , crush or break it. Radival 200 Tablet is to be taken with food.
Possible side effects of Radival 200 Tablet
Most side effects do not require any medical attention and disappear as your body adjusts to the medicine. Consult your doctor if they persist or if you're worried about them
Common side effects of Radival 200 Tablet
Headache

Dizziness

Blurred vision

Nausea

Vomiting

Sleepiness

Hair loss

Weight gain

Tremors

Double vision

Impaired coordination

Weakness

Increased appetite

Insomnia (difficulty in sleeping)

Abdominal pain

Abnormal thoughts

Diarrhea

Depression

Constipation

Nystagmus (involuntary eye movement)

Weight loss

Bronchitis (inflammation of the airways)

Breathlessness

Low blood platelets

Hay fever

Nervousness

Ecchymosis (discoloration of the skin resulting from bleeding underneath)

Flu-like symptoms

Fever

Memory loss

Indigestion

Infection

Peripheral edema
Storage.
Store below 30°C
Why choose us?
Jindal Medical Store is one of the topmost pharmaceutical exporters with an experience of more than 53 years. Radival 200 Tablet is sold in bulk at very affordable prices. They provide the best quality services at your own convenient time. If you are looking for Radival 200 Tablet, you can visit our website.
Send your query