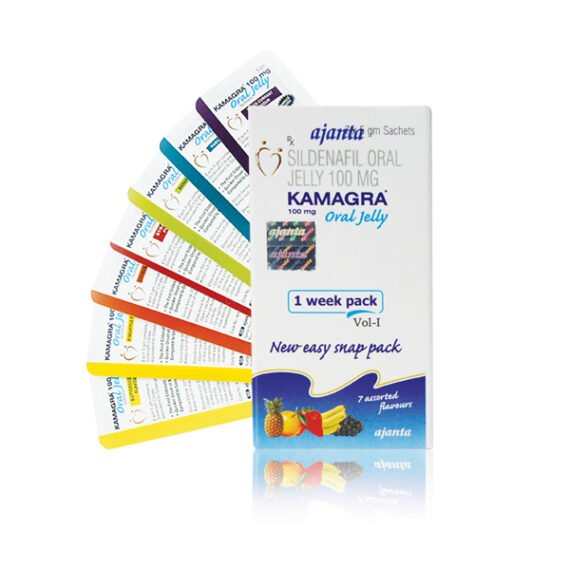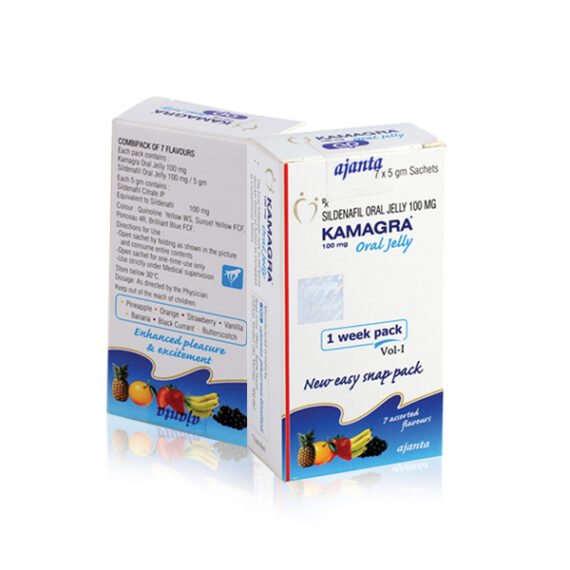 Kamagra Oral Jelly Vol- 1
$0.00
Name: Kamagra Oral Jelly Vol 1
Composition: Sildenafil Citrate 100 mg
Form: Oral Jelly
Packing: 1 Week Pack
Description
Erectile dysfunction is the inability to have an erection while having sex. 43% of men face this disease. Kamagra Oral Jelly Vol 1 contains Sildenafil Citrate (100 mg) which helps with the treatment of erectile dysfunction. Erectile dysfunction is caused due to insufficient blood flow in the penis.
Description
How to consume?
Firstly, consume the medicine if your doctor agrees. It is like jelly which means you can easily swallow it. It should be taken 1 hour before having sex and should be avoided if not intended. It should not be taken with food otherwise the medicine will not work.
Precautions
Some precautions are to be taken before you consume Kamagra Oral Jelly. If you are below 18 and above 65, it is advised not to consume the medicine. If you are having any heart disease or cancer, consumption of the medicine should be avoided. Women cannot consume the medicine because it will not work.
Possible Side effects
There are some side effects of the medicine and if you face some of these you should contact your doctor
Headache
Dizziness
Indigestion
Rashes
Diarrhea
Storage
Kamagra Oral Jelly should be stored in cool and dry places. It should be kept away from heat.
Why choose us?
Jindal Medical Store is the best Kamagra Oral Jelly Vol 1 supplier in India. We have experience of more than 53 years with a remark of convenient and safe delivery of the medicines. It is manufactured in bulk by Ajanta Pharma. We are one of the leading exporters of Kamagra Jelly Vol 1 with a history of timely delivery. Sildenafil Citrate Kamagra oral jelly Vol 1 is available at a very affordable price. Medicines will be delivered without any delay because Jindal Medical is at your service.
Send your query