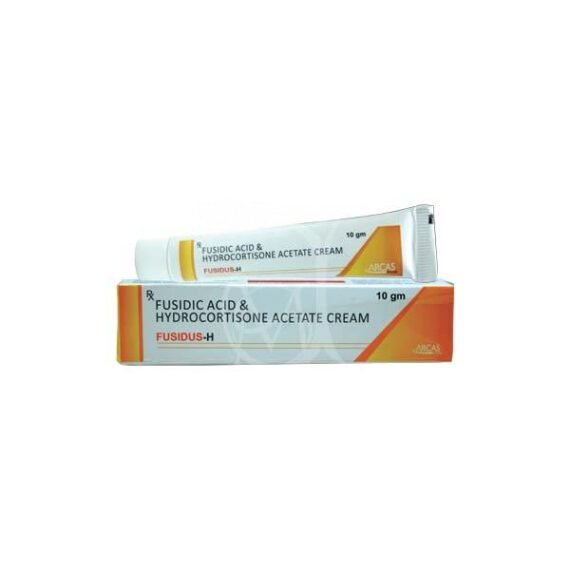 Fusidus H Cream
$0.00
Brand: Fusidus H Cream
Composition: Fusidic Acid 2 %W/W + Hydrocortisone acetate 1 %W/W
Form: Ointment
Packing: Ointment
Manufacture By: Trumac Healthcare
DESCRIPTION:
Fusidus H Cream is a dermatological prescription used to treat bacterial skin contaminations and atopic dermatitis. A bacterial contamination is a condition wherein destructive microscopic organisms enter the body through the skin and cause disease. Atopic dermatitis is a skin condition in which the safe framework becomes set off, accordingly causing irritation, dry skin, tingling, a skin rash that seems purple or dark or red in shading. Fusidus H Cream doesn't treat viral or parasitic skin contaminations.
Description
How to Take a Fusidus H Cream?
Fusidus H Cream is just for outside use. Take a limited quantity of Fusidus H Cream and tenderly apply as a dainty layer on the impacted region of the skin as endorsed by your PCP. Clean up when applying Fusidus H Cream, except if the treated region is hands. Assuming that you are utilising Fusidus H Cream all over, keep away from contact with your eyes as it might cause bothering. On the off chance that Fusidus H Cream interacts with eyes inadvertently, flush with water completely. Assuming that you actually dislike your eye or notice any vision issues, counsel your primary care physician right away.
Possible side effects of Fusidus H Cream
Most side goods don't bear any medical attention and vanish as your body adjusts to the drug. Consult your Doctor if they persist or if you 're upset about them 
Skin redness

Itching of the skin

Dry skin

Mild irritation 

Burning sensation at the site of application
Storage.
It should store below 30°C in a cool dry place.
Why choose us?
Jindal Medical Store is one of the topmost pharmaceutical exporters with an experience of more than 50 years. Fusidus H Cream are sold in bulk at very affordable prices. They provide the best quality services at your own convenient time. If you are looking for a Fusidus H Cream then you can visit our website.
Send your query