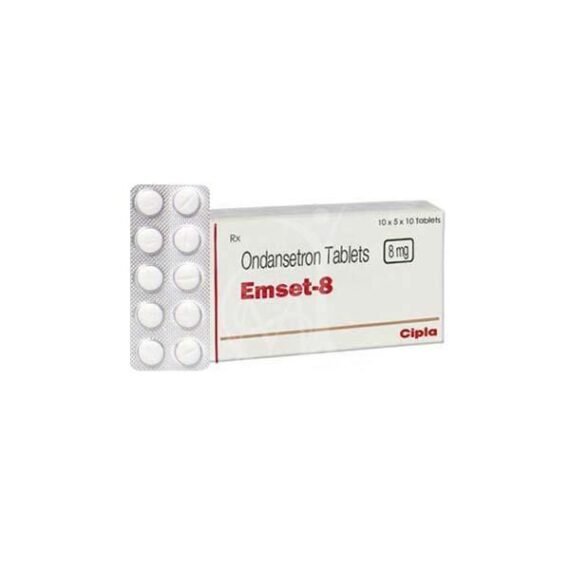 Emset 8 mg
$0.00
Brand: Emset 8 Mg
Composition: Ondansetron (8mg)
Form: Tablet
Packing: 10x5x10 Tablets
Manufactured By: Cipla 
DESCRIPTION:
EMSET 8MG contains Ondansetron which has a place with a gathering of medications called anti-emetics, which help to quit feeling or being wiped out. It's demonstrated to help and treat queasiness and spewing persuaded by cytotoxic cure and radiotherapy and post-employable sickness and regurgitating. This medication works by obstructing the activity of serotonin circumstances in the cerebrum which causes queasiness and heaving during chemotherapy or some other medical procedure. Cytotoxic chemotherapy sets off the arrival of serotonin from the enterochromaffin cells of the small digestive system. The delivered serotonins animate the vagal afferents through the 5-HT3 receptors and start the vomiting payoff. Ondansetron is a fussy 5-HT3 receptor bad guy which blocks serotonin, both incidentally on vagal impulse whams outstations and midway in the chemoreceptor locator zone. It works by impeding serotonin in the cerebrum which causes queasiness and spewing during anti-malignant growth treatment(chemotherapy) or after medical procedure.
Description
How to Take Emset 8 Mg?
Take this drug in the cure and duration as advised by your doctor. Swallow it as a whole. Don't bite, crush or break it. Emset 8 Tablet may be taken with or without food, but it's better to take it at a fixed time.

Possible side effects of Emset 8 Mg
Most side effects do not require any medical attention and disappear as your body adjusts to the medicine. Consult your doctor if they persist or if you're worried about them
Common side effects of Emset
Constipation

Diarrhea

Fatigue

Headache
Storage.
Store below 30°C
Why choose us?
Jindal Medical Store is one of the topmost pharmaceutical exporters with an experience of more than 53 years. Emset 8 Mg is sold in bulk at very affordable prices. They provide the best quality services at your own convenient time. If you are looking for Emset 8 Mg, you can visit our website.
Send your query