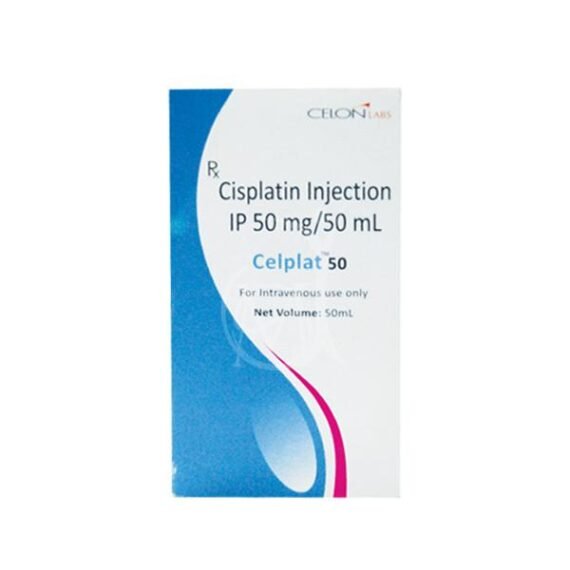 Celplat 50
$0.00
Brand: CELPLAT 50
Composition: Cisplatin (50mg)
Form: Injection
Packing: 50ml
Manufactured By: Celon Laboratories Ltd
DESCRIPTION:
Celplat 50 mg Injection is a traditional drug used in the treatment of ovarian, cervical, and testicular cancers. It works by stopping or decelerating down the growth of cancer cells in the body.
Celplat 50 mg Injection is given as an injection into modes by a good medical professional. Your croaker will decide what cure is necessary and how frequently you need to take it. This will depend on what you're being treated for and may change from time to time. You should take it exactly as your croaker has advised.
Description
How to Take a Celplat 50 mg Injection?
This drug is given by injection into a muscle or tone as directed by your croaker, generally formerly or doubly daily. The lozenge is grounded on your medical condition and response to treatment.
Possible side effects of Celplat 50 mg Injection
Most aspect effects no longer require any medical attention and disappear as your body adjusts to the medicine. Consult your medical doctor in the event that they persist or in case you're concerned approximately them
Injection site reactions (pain, swelling, redness)

Increased risk of infection

Ear disorder

Vomiting

Nausea

Decreased blood cells (red cells, white cells, and platelets)

Renal impairment

Peripheral neuropathy (tingling and numbness of feet and hand)

Kidney damage

Hearing loss

Ringing in ear
Storage.
Store in a cool and dry place away from sunlight.
Why choose us?
Jindal Medical Store is one of the topmost pharmaceutical exporters with an experience of more than 53 years. Celplat 50 mg Injection is sold in bulk at very affordable prices. They provide the best quality services at your own convenient time. If you are looking for a Celplat 50 mg Injection, you can visit our website.
Send your query