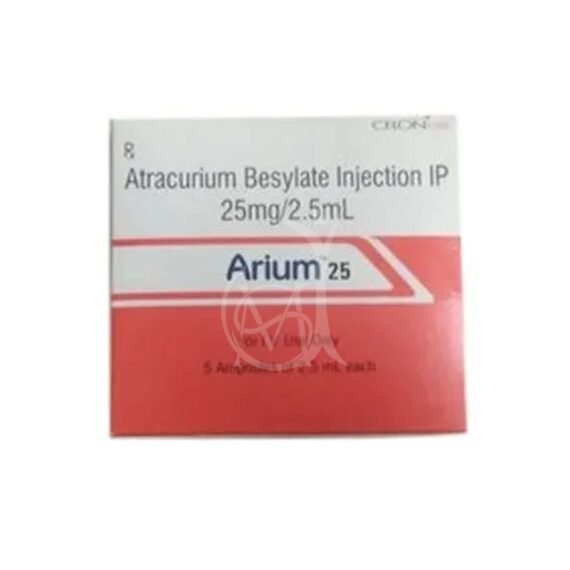 Arium 25 Injection
$0.00
Brand: Arium 25 Injection
Composition: Atracurium 25mg /ml
Form: Injection
Packing: 5 Ampules of 2.5ml
Manufactured By: Celon Laboratories Ltd
DESCRIPTION:
Arium 25mg/ ml Injection belongs to a group of drugs called muscle relaxants. It's used along with general anaesthesia or anodynes to give cadaverous muscle relaxation during surgical procedures. It's also used to grease exigency airway operation in cases in ferocious care.
Arium 25mg/ ml Injection is generally administered by a healthcare professional. You shouldn't tone- administer this drug at home. The cure and duration will depend on what you're taking it for and how well it helps your symptoms.
Description
How to Take Arium 25mg/ ml Injection?
Your croaker or nanny will give you this drug. Kindly don't self administer.
Possible side effects of Arium 25mg/ ml Injection
Most aspect effects no longer require medical attention and disappear as your body adjusts to the medicine. Consult your medical doctor in the event that they persist or in case you're concerned approximately them
Itching

Skin rash

Erythema (skin redness)

Injection site reactions (pain, swelling, redness)
Storage.
Store in a cool and dry place away from sunlight.
Why choose us?
Jindal Medical Store is one of the topmost pharmaceutical exporters with an experience of more than 53 years. Arium 25mg/ ml Injection is sold in bulk at very affordable prices. They provide the best quality services at your own convenient time. You can visit our website if you are looking for Arium 25mg/ ml Injection.
Send your query