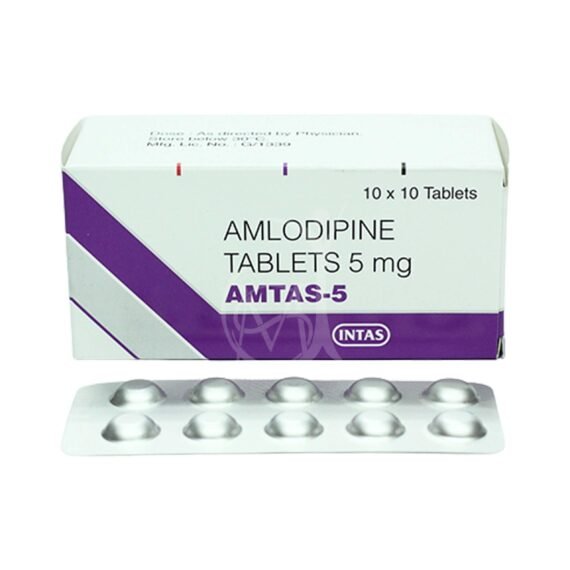 Amtas 5 Tablets
$0.00
Brand: Amtas 5 Tablets
Composition: Amlodipine 5mg
Form: Tablets
Packing: 10×10 Tablets
Manufactured By: Intas Pharmaceuticals Ltd
DESCRIPTION:
Amtas 5 Tablet belongs to a class of drugs known as calcium channel blockers. It's used to treat high blood pressure (hypertension) and help angina (heart- related casket pain). It lowers blood pressure and reduces the heart's workload, which helps prevent heart attacks and strokes.
Amtas 5 Tablet may be specified alone or on with other drugs. The cure depends on what you're taking it for and the inflexibility of your condition. You can take it at any time of the day, with or without food, but it's stylish to take it at about the same time each day. You should take this drug for as long as it's specified for you. Indeed if you feel well, don't stop this drug on your own because high blood pressure frequently has no symptoms. However, your condition may get worse, If you stop taking it. Keeping yourself active with regular exercise, managing your weight, and eating a healthy diet will also help control your blood pressure.
Description
How to Amtas 5 Tablet?
Take this drug in the cure and duration as advised by your croaker . Swallow it as a whole. Don't bite, crush or break it. Amtas 5 Tablet may be taken with or without food, but it's better to take it at a fixed time.
Possible side effects of Amtas 5 Tablet
Most aspect effects no longer require medical attention and disappear as your body adjusts to the medicine. Consult your medical doctor in the event that they persist or in case you're concerned approximately them
Headache

Fatigue

Nausea

Abdominal pain

Sleepiness
Storage.
Store in a cool and dry place away from sunlight.
Why choose us?
Jindal Medical Store is one of the topmost pharmaceutical exporters with an experience of more than 53 years. Amtas 5 Tablets are sold in bulk at very affordable prices. They provide the best quality services at your own convenient time. You can visit our website if you are looking for an Amtas 5 Tablet.
Send your query