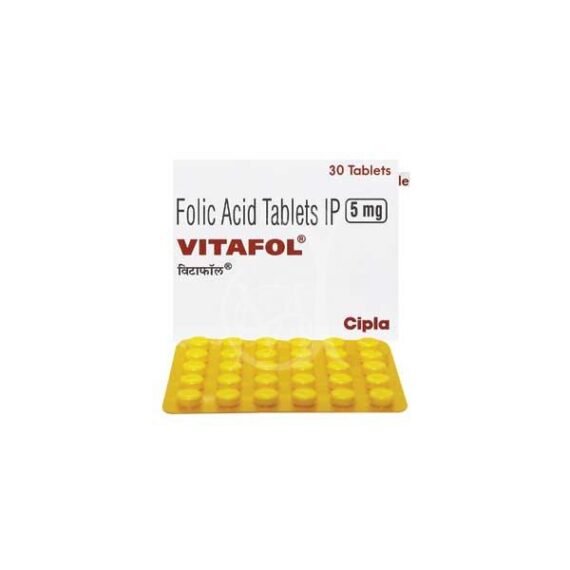 Vitrafol
$0.00
Brand: Vitrafol
Composition: Venlafaxine 25mg
Form: Capsule
Packing: 10×10 Capsules
Manufactured By: Cipla Ltd
DESCRIPTION:
This prescription, which comes in the form of a multivitamin, is used to treat or prevent vitamin deficiencies brought on by a poor diet, specific diseases, or pregnancy. Vitamins are crucial for maintaining your health because they serve as the body's building blocks.
Description
How to Take Vitrafol?
As directed by the physician. 
Possible side effects of Vitrafol
Most aspect effects no longer require medical attention and disappear as your body adjusts to the medicine. Consult your medical doctor in the event that they persist or in case you're concerned approximately them
Constipation

diarrhea

upset stomach 
Storage.
Store in a cool and dry place away from sunlight.
Why choose us?
Jindal Medical Store is one of the topmost pharmaceutical exporters with an experience of more than 53 years. Vitrafol is sold in bulk at very affordable prices. They provide the best quality services at your own convenient time. If you are looking for a Vitrafol, you can visit our website.
Send your query
Quick Comparison
Settings
Vitrafol

remove

Aerocort Rotacaps

remove

Omecip 20mg

remove

Orligal 120

remove

Istrotas 20

remove

Rabesec-D SR

remove

Image
SKU
Rating
Price

$0.00

$0.00

$0.00

$0.00

$0.00

$0.00

Stock
Availability
Add to cart
Description
Brand:

Vitrafol

Composition:

Venlafaxine 25mg

Form:

Capsule

Packing:

10×10 Capsules

Manufactured By:

Cipla Ltd

DESCRIPTION:

This prescription, which comes in the form of a multivitamin, is used to treat or prevent vitamin deficiencies brought on by a poor diet, specific diseases, or pregnancy. Vitamins are crucial for maintaining your health because they serve as the body's building blocks.

Name: Aerocort Rotacaps Composition: Levosalbutamol (100mcg) + Beclometasone (100mcg) Form: Rotacaps Packing: 30 Capsules Manufactured by: Cipla Ltd Description Aerocort Rotacap is used in the treatment of asthma (wheezing and shortness of breath). It relaxes the muscles of the air passages and makes it easier to breathe. Your doctor will tell you how often you need to use your inhaler. It's important that you take the lowest dose needed to effectively control your asthma. The effect of this medicine may be noticeable after a few days but will only reach its maximum after a few weeks.
Name: Omecip Composition: Omeprazole (20mg) Form: Capsule Packing: 20x15 Capsules Manufactured by: Cipla Ltd Description Omecip Capsule is a medicine that reduces the amount of acid produced in your stomach. It helps treat acid-related diseases of the stomach and intestine such as heartburn, acid reflux, and peptic ulcer disease. Omecip Capsule is also used to prevent stomach ulcers and acidity that may be seen with the prolonged use of painkillers. It belongs to a class of medicines known as proton pump inhibitors (PPIs). This medicine should be taken one hour before a meal, preferably in the morning. The dose will depend on your underlying condition and how you respond to the medicine.
Name: Orligal 120 Composition: Orlistat Form: Capsules Packing: 21 Capsules Manufactured by: Signature  Description Orligal 120 mg

is used for weight loss. It should be consumed together with increased physical activity and a reduced-calorie diet.

Name: Istrotas 20 Composition: Isotretinoin (20mg) Form: Capsule Packing: 1x10 Softgels Manufactured by: Broad Injectables Description Istrotas 20 belongs to a group of medicines called retinoids (vitamin A derivative). It is used to treat severe acne that has not responded to other treatments. Istrotas 20 should be used in the dose and duration as advised by your doctor. Take it with food, preferably at the same time each day to avoid a missed dose. It may take several weeks for your symptoms to improve but keep taking the medicine regularly to get the most benefit.
Name: Rabesec-D SR Composition: Domperidone (30mg) + Rabeprazole (20mg) Form: Capsule Packing: 20X10 Capsules Manufactured by: Cipla Ltd Description Rabesec-D SR is a combination medicine used to treat gastroesophageal reflux disease (Acid reflux) and peptic ulcer disease by relieving the symptoms of acidity such as heartburn, stomach pain, or irritation. It also neutralizes the acid and promotes easy passage of gas to reduce stomach discomfort. Rabesec-D SR is taken without food in a dose and duration as advised by the doctor. The dose you are given will depend on your condition and how you respond to the medicine. You should keep taking this medicine for as long as your doctor recommends. If you stop treatment too early your symptoms may come back and your condition may worsen.
Content
How to Take Vitrafol?

As directed by the physician.

 

Possible side effects of Vitrafol

Most aspect effects no longer require medical attention and disappear as your body adjusts to the medicine. Consult your medical doctor in the event that they persist or in case you're concerned approximately them

Constipation

diarrhea

upset stomach 

Storage.

Store in a cool and dry place away from sunlight.

Why choose us? Jindal Medical Store

is one of the topmost pharmaceutical exporters with an experience of more than

53 years. Vitrafol

is sold in bulk at very affordable prices. They provide the best quality services at your own convenient time. If you are looking for a

Vitrafol

, you can visit our website.

Send your query




How to consume? Place the capsule at the base of rotahaler, not in the mouthpiece. Twist the mouthpiece completely until you hear a click and breathe in deeply through the mouthpiece. Hold your breath for up to 10 seconds. If some powder remains in the rotahaler repeat the process. Aerocort Rotacaps side effects : • Hoarseness of voice • Sore throat • Fungal infection of the mouth • Respiratory tract infection • Headache • Muscle cramp Storage Store below 30°C. Why choose us? Jindal Medical Store is one of the topmost pharmaceutical exporters with experience of more than 50 years. Aerocort Rotacaps is sold in bulk at very affordable prices. They provide the best quality services at your own convenient time. If you are looking for Levosalbutamol 100mcg + Beclometasone 100mcg then you can visit our website.

Send your query




How to consume? Take this medicine in the dose and duration as advised by your doctor. Omecip Capsule is to be taken empty stomach. Omecip Side effects: • Diarrhea • Flatulence • Headache • Nausea • Stomach pain • Vomiting Storage Store below 30°C. Why choose us? Jindal Medical Store is one of the topmost pharmaceutical exporters with experience of more than 50 years. Omecip is sold in bulk at very affordable prices. They provide the best quality services at your own convenient time. If you are looking for Omeprazole 20mg then you can visit our website.

Send your query




How to consume?

3 Capsules should be taken in one day. Do not break or chew the medicine. It should be taken as directed by a doctor. 

Orligal 20 mg side effects 

Oily evacuation 

Increased defecation 

Oily spotting

Flatus with discharge

Storage

It should be kept in cool and dry places away from children and pets.

Why Choose Us?

Jindal Medical Store is one of the topmost pharmaceutical suppliers with experience of more than

50 years. Orligal 120 mg capsules

are sold in bulk at very affordable prices. They provide the best quality services at your own convenient time. If you are looking for

Orligal 120 mg

then you can visit our website.

Send your query




How to consume? Take this medicine in the dose and duration as advised by your doctor. Swallow it as a whole. Do not chew, crush or break it. Istrotas 20 is to be taken with food. Istrotas 20 side effects: • Dry skin • Increased liver enzymes • Rash Storage Store in a cool and dry place, Store below 30°C. Why choose us? Jindal Medical Store is one of the topmost pharmaceutical exporters with experience of more than 50 years. Istrotas 20 is sold in bulk at very affordable prices. They provide the best quality services at your own convenient time. If you are looking for Isotretinoin 20mg then you can visit our website.

Send your query




How to consume? Take this medicine in the dose and duration as advised by your doctor. Swallow it as a whole. Do not chew, crush or break it. Rabesec-D SR is to be taken empty stomach. Rabesec-D SR side effects: • Diarrhea • Stomach pain • Dryness in mouth • Headache • Dizziness • Flatulence • Weakness • Flu-like symptoms Storage Store in a cool and dry place, Store below 30°C. Why choose us? Jindal Medical Store is one of the topmost pharmaceutical exporters with experience of more than 50 years. Rabesec-D SR is sold in bulk at very affordable prices. They provide the best quality services at your own convenient time. If you are looking for Domperidone (30mg) + Rabeprazole (20mg) then you can visit our website.

Send your query




Weight
Dimensions
N/A
N/A
N/A
N/A
N/A
N/A
Additional information