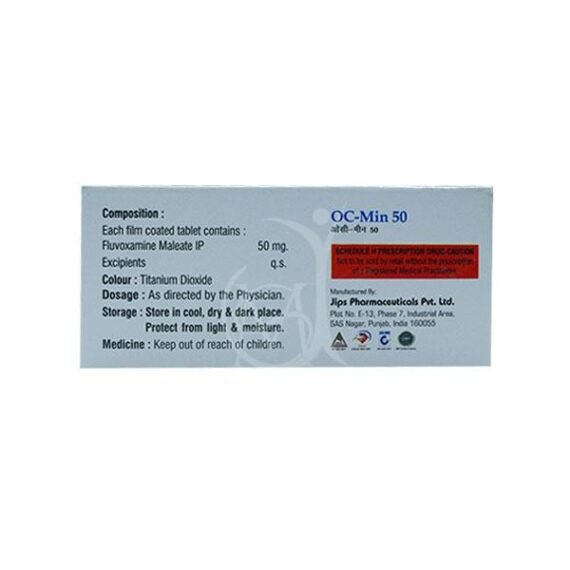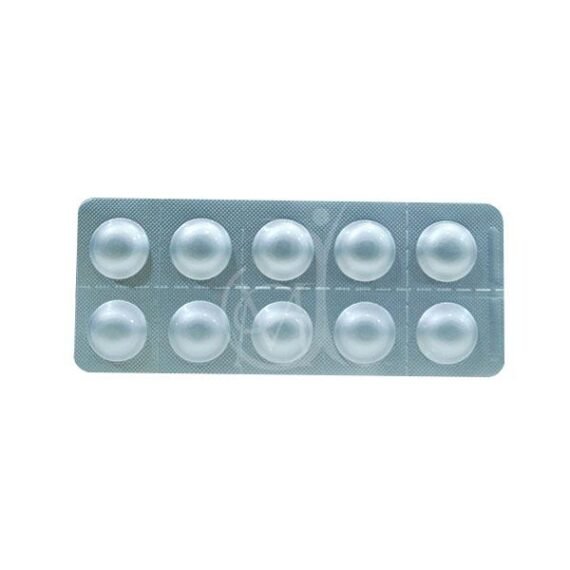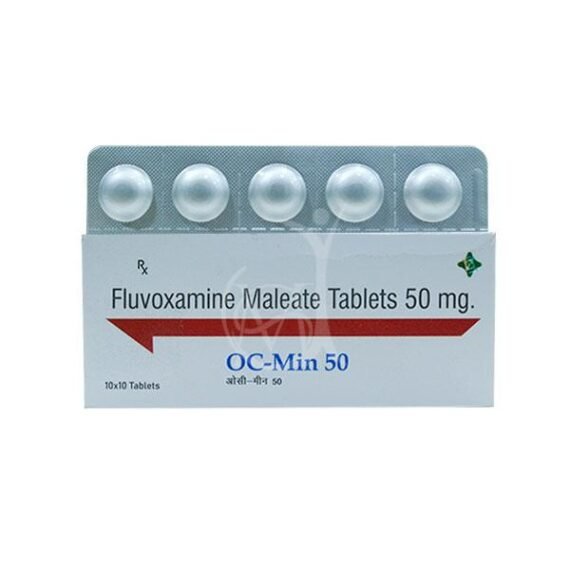 OC Min 50
$0.00
Name: OC Min 50
Composition: Fluvoxamine (50mg)
Form: Tablet
Packing: 10×10 Tablets
Manufactured by: Jips pharmaceutical
Description
OC-Min 50 Tablet is a type of antidepressant belonging to the selective serotonin reuptake inhibitor (SSRI) group of medicines. It is prescribed to treat depression, where it helps to make you feel better. This medicine is also used to treat people with obsessive-compulsive disorder.
OC-Min 50 Tablet can be taken with or without food. The dose and how often you need it will be decided by your doctor so that you get the right amount to control your symptoms. Your doctor may start you on a lower dose and increase it gradually. Do not change the dose or stop taking it without talking to your doctor, even if you feel well.
Description
How to consume?
Take this medicine in the dose and duration as advised by your doctor. Swallow it as a whole. Do not chew, crush or break it. OC-Min 50 Tablet may be taken with or without food, but it is better to take it at a fixed time.
OC Min 50 Side effects:
• Delayed ejaculation
• Drowsiness
• Erectile dysfunction
• Low sexual desire
• Nausea
• Vomiting
• Dryness in mouth
• Fatigue
Storage
Store at room temperature in a dry place. Store below 30°C.
Why choose us?
Jindal Medical Store is one of the topmost pharmaceutical suppliers with experience of more than 50 years. OC Min 50 is sold in bulk at very affordable prices. They provide the best quality services at your own convenient time. If you are looking for Fluvoxamine 50mg then you can visit our website.
Send your query
Quick Comparison
Settings
OC Min 50

remove

Amiprime 500

remove

Ketoprime-Z

remove

Levosulpiride 50mg Tablet

remove

Medicort-A 80

remove

Cefto-Pri 1g Injection

remove

Image
SKU
Rating
Price

$0.00

$0.00

$0.00

$0.00

$0.00

$0.00

Stock
Availability
Add to cart
Description
Name: OC Min 50 Composition: Fluvoxamine (50mg) Form: Tablet Packing: 10x10 Tablets Manufactured by: Jips pharmaceutical Description OC-Min 50 Tablet is a type of antidepressant belonging to the selective serotonin reuptake inhibitor (SSRI) group of medicines. It is prescribed to treat depression, where it helps to make you feel better. This medicine is also used to treat people with obsessive-compulsive disorder. OC-Min 50 Tablet can be taken with or without food. The dose and how often you need it will be decided by your doctor so that you get the right amount to control your symptoms. Your doctor may start you on a lower dose and increase it gradually. Do not change the dose or stop taking it without talking to your doctor, even if you feel well.
Name:

Amiprime 500

Composition:

Amikacin Sulphate Injection 500mg

Form:

Vial

Packing:

2ml

Manufactured by:

Prime Life Sciences Pvt Ltd 

Description Amiprime 500 mg

is an antibiotic that fights bacteria. It is used to treat several bacterial infections such as skin, lungs, urinary tract and the stomach.

Brand:- Ketoprime-Z Composition:-

Ketoconazole 2% & Zinc Pyrithione 1% Lotion

Form:-

Lotion

Strength:-

Ketoconazole 2% & Zinc Pyrithione 1%

Packing:-

60ml

Manufacture By:-

Prime Life Sciences Pvt Ltd

DESCRIPTION:

This medication is used to treat a certain skin condition (seborrheic dermatitis, a type of dandruff). In this condition, it is believed that a fungus (Malassezia furfur) infects the skin or scalp, resulting in dry, flaky skin (scales) on the scalp, face, ears, chest, or upper back.

Composition:-

Levosulpride 50mg Tablet

Form:-

Tablet

Strength:-

50mg

Packing:-

10x1x10 Tablet

Manufacture By:-

Prime Life Sciences Pvt Ltd

DESCRIPTION:

Levosulpiride(Dislep) generic Levipride (50mg) is an antipsychotic and prokinetic agent, prescribed for dyspepsia, gastro-esophageal reflux disease, and irritable bowel syndrome.

Brand:- Medicort-A 80 Composition:-

Methylprednisolone Acetate Injection

Form:-

Injection

Strength:-

40mg/ml

Packing:-

2ml

Manufacture By:-

Prime Life Sciences Pvt Ltd

DESCRIPTION:

Methylprednisolone is used to treat pain and swelling that occurs with arthritis and other joint disorders. This medication may also be used to treat various conditions such as blood disorders, severe allergic reactions, certain cancers, eye conditions, skin/intestinal/kidney/lung diseases, and immune system disorders.

Name: Cefto- Pri Composition: Ceftazidime for Injection BP Form: Vial Packing: 1 Injection in 1 Vial Manufactured by: Prime Life Sciences Pvt Ltd  Description Cefto- Pri

is indicated for the treatment of patients with infections caused by susceptible strains of the designated organisms in the diseases- lower respiratory tract infections, urinary tract infections, skin structure infections.

Content
How to consume? Take this medicine in the dose and duration as advised by your doctor. Swallow it as a whole. Do not chew, crush or break it. OC-Min 50 Tablet may be taken with or without food, but it is better to take it at a fixed time. OC Min 50 Side effects: • Delayed ejaculation • Drowsiness • Erectile dysfunction • Low sexual desire • Nausea • Vomiting • Dryness in mouth • Fatigue Storage Store at room temperature in a dry place. Store below 30°C. Why choose us? Jindal Medical Store is one of the topmost pharmaceutical suppliers with experience of more than 50 years. OC Min 50 is sold in bulk at very affordable prices. They provide the best quality services at your own convenient time. If you are looking for Fluvoxamine 50mg then you can visit our website.

Send your query




How to use it?

The injection should be given by your doctor or nurse.

Amiprime 500 side effects 

Diarrhea 

Dizziness 

Headache 

Drug Fever

Numbness

Skin tingling

Spinning sensation

Hearing loss

Storage 

It should be kept in cool and dry places away from children and pets.

Why Choose Us? Jindal Medical Store is one of the topmost pharmaceutical suppliers with experience of more than 53 years. Amiprime 500 is sold in bulk at very affordable prices. They provide the best quality services at your own convenient time. If you are looking for Amikacin Sulphate Injection 500mg

 then you can visit our website.

Send your query




What does the Ketoprime-Z Lotion contain?

Ketoconazole+Zinc pyrithione is used in the treatment of dandruff. Ketoconazole + Zinc pyrithione is a combination of two antifungal medicines: Ketoconazole and Zinc pyrithione. It works by destroying the cell membrane of fungi that cause dandruff.

How to take a Ketoprime-Z Lotion?

Use this medication on the scalp and skin only.

Clean and thoroughly dry the area to be treated.

Wash hands before and after applying this medication.

Apply it to the affected skin and also to a small amount of the normal skin next to this area, usually once a day or as directed by your doctor.

Possible side effects of Ketoprime-Z Lotion.

Burning, redness, or dryness of the treated skin may occur. If any of these effects persist or worsen, tell your doctor or pharmacist promptly. Tell your doctor right away if any of these rare but very serious side effects occur: blisters/open sores on the treated skin, eye swelling.

Storage.

Store the medicine in a closed container at room temperature, away from heat, moisture, and direct light. Keep from freezing. Keep out of the reach of children.

Send your query




What does the Levosulpiride 50mg Tablet contain?

Levosulpiride 50 mg tablet uses Levosulpiride is an atypical antipsychotic medication used in the treatment of nausea, vomiting, heartburn, schizophrenia, depression, etc.

How to take a Levosulpiride 50mg Tablet?

Levosulpiride is an atypical antipsychotic.

It works by increasing the release of acetylcholine (a chemical messenger).

This increases the movement of the stomach and intestines and prevents reflux (acid going up to the food pipe).

Take it as per dose and duration suggested by your doctor.

Possible side effects of Levosulpiride 50mg Tablet.

Absence of menstrual periods (amenorrhea)

Swelling of breasts in men (gynecomastia)

Changes in sex drive.

Milk discharge from the nipples when not breastfeeding, usually in women (galactorrhea)

Storage.

Stored it at room temperature (

25°C).

Send your query




What does the Medicort-A 80 Injection contain?

40 mg Act-O-Vial System (Single-Use Vial)—Each mL (when mixed) contains methylprednisolone sodium succinate equivalent to 40 mg methylprednisolone; also 1.6 mg monobasic sodium phosphate anhydrous; 17.46 mg dibasic sodium phosphate dried; and 25 mg lactose hydrous.

How to take a Medicort-A 80 Injection?

Methylprednisolone 40mg Injection is usually given as an injection by your doctor into a vein, joint, or muscle.

The amount you are given will depend on what you are being treated for and how much you need to control your symptoms.

Possible side effects of Medicort-A 80 Injection.

Nausea, vomiting, heartburn, headache, dizziness, trouble sleeping, appetite changes, increased sweating, acne, or pain/redness/swelling at the injection site may occur. If any of these effects persist or worsen, tell your doctor or pharmacist promptly.

Storage.

Store at room temperature (10-30°C)

Send your query




How to use it?

It should be given by your doctor or nurse.

Cefto- Pri side effects 

Pain

Swelling  

Vomiting 

Diarrhoea 

Stomach pain 

Nausea

Burning or irritation around IV needle

Storage

It should be kept in cool and dry places away from children and pets.

Why Choose Us?

Jindal Medical Store is one of the topmost pharmaceutical suppliers with an experience of more than

50 years. Cefto- Pri

is sold in bulk at very affordable prices. They provide the best quality services at your own convenient time. If you are looking for

Cefto- Pri

then you can visit our website.

Send your query




Weight
Dimensions
N/A
N/A
N/A
N/A
N/A
N/A
Additional information