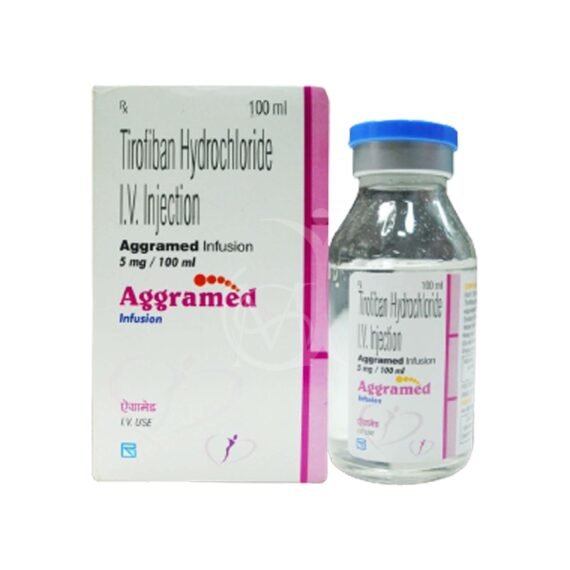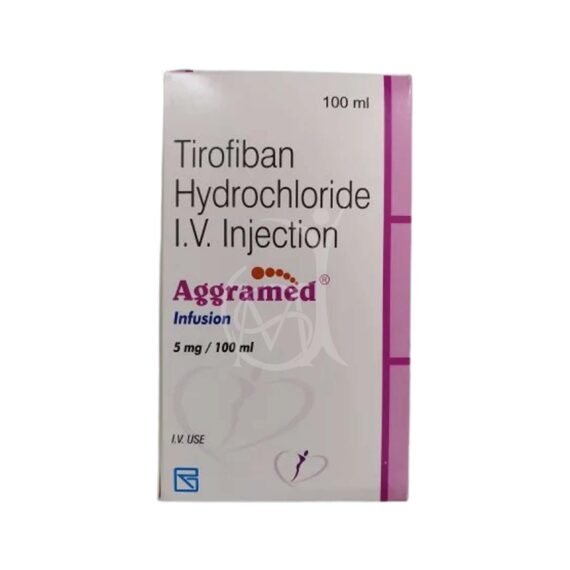 Agrammed Infusion
$0.00
Brand: Agrammed Infusion
Composition: Tirofiban
Form: Injection
Packing: 5mg/100ml
Manufactured By: Zydus Cadila
DESCRIPTION:
Aggramed 5 mg Infusion is a blood thinner which prevents conformation of dangerous blood clots. It helps to help a heart attack in cases presenting with severe casket pain due to an unforeseen drop in blood inflow to the heart.
Aggramed 5 mg Infusion is administered under the supervision of a croaker. Your croaker will decide the cure and duration of the drug for you. You should continue all your other drugs that are advised by the croaker for your long term treatment indeed after this injection.
Description
How to Take Aggramed 5 mg Infusion?
Your croaker or nanny will give you this drug. Kindly don't self administer.
Possible side effects of Aggramed 5 mg Infusion
Most aspect effects no longer require medical attention and disappear as your body adjusts to the medicine. Consult your medical doctor in the event that they persist or in case you're concerned approximately them
Headache

Nausea

Hematoma

Ecchymosis (discoloration of the skin resulting from bleeding underneath)

Postoperative bleeding

Blood in stool

Blood in urine
Storage.
Store in a cool and dry place away from sunlight.
Why choose us?
Jindal Medical Store is one of the topmost pharmaceutical exporters with an experience of more than 53 years. Aggramed 5 mg Infusion is sold in bulk at very affordable prices. They provide the best quality services at your own convenient time. You can visit our website if you are looking for Aggramed 5 mg Infusion.
Send your query
Quick Comparison
Settings
Agrammed Infusion

remove

Pizicef 1g Injection

remove

Nkacin 500 Injection

remove

IMI Cilas 500mg Injection

remove

MPVR-500

remove

Hepsus 25 Injection

remove

Image
SKU
Rating
Price

$0.00

$0.00

$0.00

$0.00

$0.00

$0.00

Stock
Availability
Add to cart
Description
Brand:

Agrammed Infusion

Composition:

Tirofiban

Form:

Injection

Packing:

5mg/100ml

Manufactured By:

Zydus Cadila

DESCRIPTION:

Aggramed 5 mg Infusion

is a blood thinner which prevents conformation of dangerous blood clots. It helps to help a heart attack in cases presenting with severe casket pain due to an unforeseen drop in blood inflow to the heart.

Aggramed 5 mg Infusion

is administered under the supervision of a croaker. Your croaker will decide the cure and duration of the drug for you. You should continue all your other drugs that are advised by the croaker for your long term treatment indeed after this injection.

Name: Pizicef 1g Composition: Ceftriaxone (1000 mg) Form: Vial Packing: 1 Injection in 1 Vial Manufactured by: Prime Life Science Pvt Ltd  Description Pizicef 1 g

injection is an antibiotic belonging to a group of cephalosporin. It is used to treat bacterial infections such as brain, lungs, ear, urinary tract, skin and soft tissues, blood, bones, joints and heart.

Name: Nkacin 500 Injection Composition: Amikacin (500mg) Form: vial Packing: 2 ml in 1 vial Manufactured by: Abbott Description Nkacin 500 Injection is an antibiotic used to prevent or treat a wide variety of bacterial infections. These may include infections of the urinary tract, bones, and joints, lungs (eg. pneumonia), brain, blood, among others. It is also used in hospitalized patients to prevent infections.
Name: Imi Cilas 500 mg Composition: Imipenem and Cilastatin Form: Vial Packing: 1 injection in 1 Vial Manufactured by: Abbott  Description Imi Cilas 500 mg

is a combination of antibiotics that fights bacteria. It is used to treat several bacterial infections. It also fights microorganisms to prevent further infections.

Brand:- MPVR-500

Composition:-

Methylprednisolone Sodium, Succinate Inj. USP

Form:-

Injection

Strength:-

500mg

Packing:-

Single Dose vial for I.M/I.V. Injection

Manufacture By:-

Prime Life Sciences Pvt Ltd

DESCRIPTION:

This medication is used to treat conditions such as arthritis, blood disorders, severe allergic reactions, certain cancers, eye conditions, skin/kidney/intestinal/lung diseases, and immune system disorders.

Name: Hepsus 25 Composition: Heparin (25000 IU) Form: Vial Packing: 25000 IU / 5 ml Manufactured by: Pace biotech Description Hepsus 25 is an anticoagulant that prevents abnormal clotting of blood. It not only prevents the formation of harmful blood clots in the legs, lungs, and heart but also stops them from growing bigger. Hepsus 25 is administered under the supervision of a doctor. Your doctor will decide how often you should take this medicine. This may change from time to time depending on how well it is working. You should take this medicine regularly to get the most benefit, even if you feel fine. It is preventing future harm.
Content
How to Take Aggramed 5 mg Infusion?

Your croaker or nanny will give you this drug. Kindly don't self administer.

Possible side effects of Aggramed 5 mg Infusion

Most aspect effects no longer require medical attention and disappear as your body adjusts to the medicine. Consult your medical doctor in the event that they persist or in case you're concerned approximately them

Headache

Nausea

Hematoma

Ecchymosis (discoloration of the skin resulting from bleeding underneath)

Postoperative bleeding

Blood in stool

Blood in urine

Storage.

Store in a cool and dry place away from sunlight.

Why choose us? Jindal Medical Store

is one of the topmost pharmaceutical exporters with an experience of more than

53 years. Aggramed 5 mg Infusion

is sold in bulk at very affordable prices. They provide the best quality services at your own convenient time. You can visit our website if you are looking for

Aggramed 5 mg Infusion.

Send your query




How to use it?

The injection should be given in the presence of a doctor or nurse.

Pizicef 1 g side effects 

Abnormal Liver function tests

Rashes

Diarrhoea 

Injection site reactions

Decreased blood cells

Storage

It should be kept in cool and dry places away from children and pets.

Why choose Us?

Jindal Medical Store is one of the topmost pharmaceutical suppliers with an experience of more than 50 y

ears. Pizicef 1 g Injections

are sold in bulk at very affordable prices. They provide the best quality services at your own convenient time. If you are looking for

Pizicef 1 g injection

then you can visit our website.

Send your query




How to use it? Your doctor or nurse will give you this medicine. Kindly do not selfadminister. Nkacin side effects

Increased blood urea
Injection site reactions (pain, swelling, redness)

Storage It should be kept in cool and dry places away from children and pets. Why choose Us? Jindal Medical Store is one of the topmost pharmaceutical suppliers with an experience of more than 50 years. Nkacin 500 Injection are sold in bulk at very affordable prices. They provide the best quality services at your own convenient time. If you are looking for Amikacin 500mg then you can visit our website.

Send your query




How to use it?

A doctor or nurse should give you this injection.

Imi Cilas 500 mg side effects 

Nausea 

Vomiting 

Diarrhoea 

Rash

Storage

It should be kept in cool and dry places away from children and pets.

Why choose Us?

Jindal Medical Store is one of the topmost pharmaceutical suppliers with an experience of more than

50 years. Imi Cilas 500 mg Tablets 

are sold in bulk at very affordable prices. They provide the best quality services at your own convenient time. If you are looking for

Imi Cilas 500 mg Tablets

then you can visit our website.

Send your query




What does the MPVR-500 contain?

500 mg Vial—Each 8 mL (when mixed as directed) contains methylprednisolone sodium succinate equivalent to 500 mg methylprednisolone; also 6.4 mg monobasic sodium phosphate anhydrous; 69.6 mg dibasic sodium phosphate dried. This package does not contain diluent.

How to take a MPVR-500?

Methylprednisolone powder for injection/infusion should be given as an intravenous infusion over at least 30 minutes. In other indications, the initial dosage will vary from 10 to 500 mg depending on the clinical problem being treated. Larger doses may be required for short-term management of severe, acute conditions.

Possible side effects of MPVR-500.

Nausea, vomiting, heartburn, headache, dizziness, trouble sleeping, appetite changes, increased sweating, acne, or pain/redness/swelling at the injection site may occur. If any of these effects persist or worsen, tell your doctor or pharmacist promptly.

Storage.

This product does not require any special temperature storage conditions. Keep the vials/ampoules in the outer carton in order to protect from light.

Send your query




How to consume? Your doctor or nurse will give you this medicine. Kindly do not self-administer. Hepsus 25 side effects: • Bleeding • Erythema (skin redness) Storage Store in a cool and dry place, Store below 30°C Why choose us? Jindal Medical Store is one of the topmost pharmaceutical suppliers with experience of more than 50 years. Hepsus 25 is sold in bulk at very affordable prices. They provide the best quality services at your own convenient time. If you are looking for Heparin 25000 IU then you can visit our website.

Send your query




Weight
Dimensions
N/A
N/A
N/A
N/A
N/A
N/A
Additional information